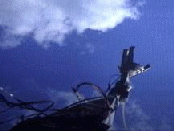 Robotic arm reaching for the sky
The first public exhibition of The Robot Group's work was held at Discovery Hall, a hands-on science museum in Austin that is no longer in existence. The date was November 5th, 1989. The event was called ROBOFEST and it broke all previous attendance records at the museum. We are sorry that Discovery Hall did not survive as an entity. This happens to a lot of non-profit groups. However, the spirit of Discovery Hall lives on in other groups and organizations like ours that continue to push the science education envelope.
---
A large and curious crowd collected, eager to see The Robot Group's imaginative creations which included:
A four legged computerized walking pneumatics driven sculpture named VARMINT
An eight legged, segmented metallic CENTIPEDE
A FISH BLIMP that swam through the air, using its tail fin for propulsion
The MARK I CYBERNETIC AIRSHIP with an on-board computer controlling the speed and angle of the two propellers.
the VENUS PROJECT, an interactive environment in which the participants created music and computer graphics by dancing on a stomp-pad, while wearing headgear with tilt-sensors wired to a synthesizer.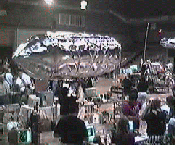 Blimp